Dim-sumbody say dumplings? 🥟
Sorry, it had to be done!
I am sure most of you have tried one form or another of a dumpling before, be it the classic British stew or casserole Dumpling here in England, or the more exotic Italian ravioli? Put simply, if you can stuff it, it's a dumpling!
What is the Chinese Dumpling?
China is no different, and the Chinese Dumpling started with a man called Zhang Zhongjian, who after witnessing his village being hit with a bout of frostbite, that effected many badly around their ears; created ear-shape dumpling stuffed with lamb and herbs to hand out during those hard times. A bit mean if you ask me. "Hi Mrs. Chen, I noticed your husband lost his ears last Winter due to frostbite, here have some dumplings in the shape of ears…"
Today, this simple dumpling has evolved into different styles of Chinese dumplings enjoyed by many around the world during Chinese festivals such as Chinese New Year. But you don't have to wait for a special day to try some Chinese dumplings…
Introducing: Chinese dumplings at the Romford Dragon!
Yes, that is dumplings, plural, there are many different styles of dumpling in Chinese cuisine, from the Chinese pork dumpling, fried at your local takeaway, to the more traditional Har Gow served at restaurants in London Chinatown for Dim Sum. Here is what we have to offer on our menu:

Wontons
Won Tons are quite common at your local Chinese takeaway, nearly every takeaway in Romford will have them on their menu.
Created by placing mincemeat in the centre of a square sheet of dough, which is folded up into a small dumpling,  then boiled in a soup with some veg or noodles. We can even deep-fry them for that extra crunch if you like!
Some takeaways use mince pork with shrimp, but we like to keep it simple with just pork.
We serve 5 in a rich broth with some tasty mixed vegetables, including Chinese lettuce.
You can find this under our Soup section on our menu, item #7 for £3.00.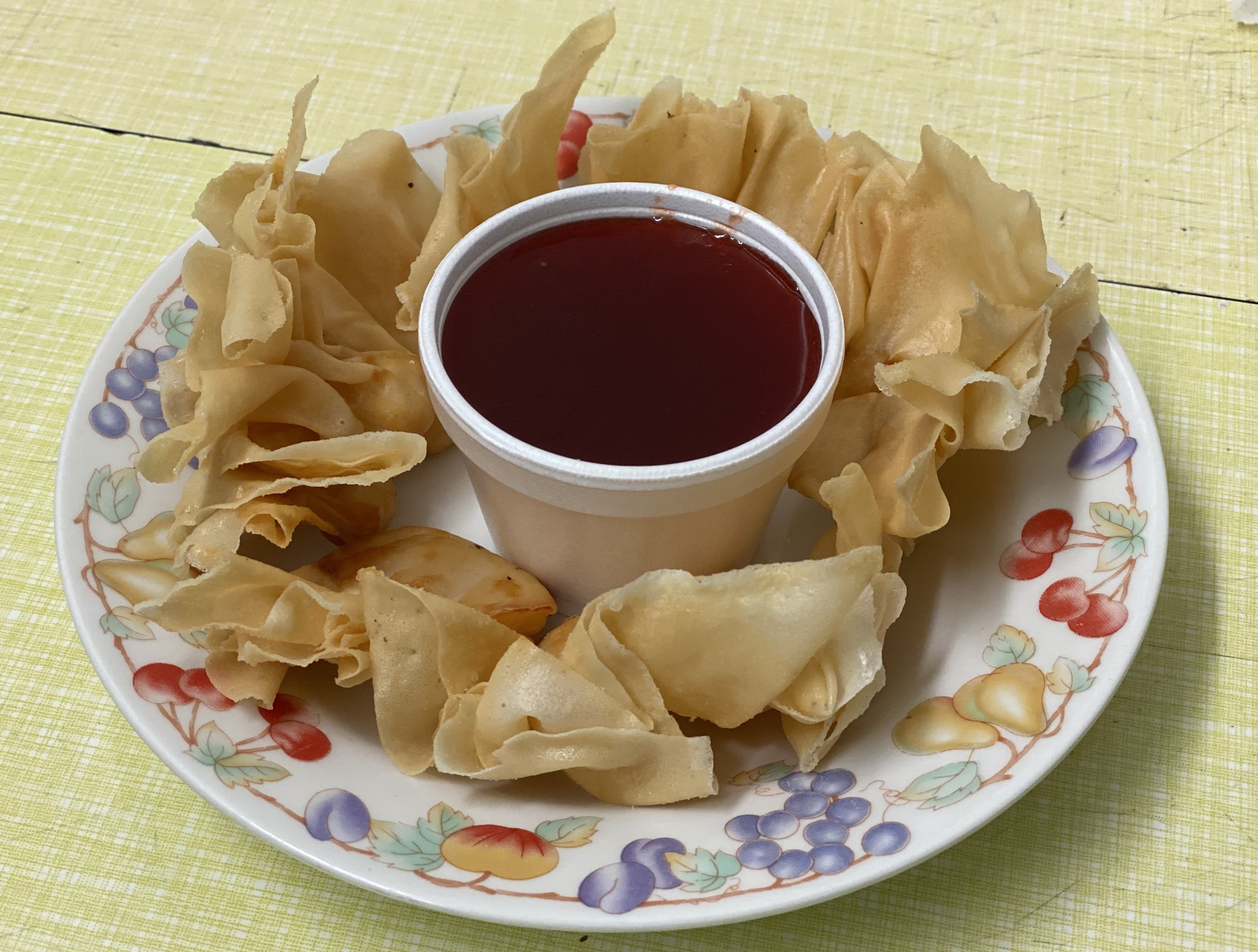 Those who are looking for that CRUNCH can find our Crispy Won-tons in our Appetizer section, J6 for £4.20. it also features a small pot of sweet and sour sauce to dip them in.
Crispy Prawn Dumplings (Fun Guo)
Take a guess what's in this dumpling… if you've guessed prawns… well nothing gets past you does it?
Deep fried in oil, this crispy dumpling is wrapped with succulent diced prawns with carrots. Taste the freshness of the prawns as you crunch into this tasty Chinese morsel!
Located on our Appetizers, at #J17 for £4.80.

Grilled Peking Pork Dumplings (Sui Gao)
Sounds exotic, but another popular dish served by a lot of Romford Chinese eateries, this pork potsticker is also very popular in northern China and is the staple Chinese Dumpling.
Our Sui Gao are wrapped in a thicker dough than our Wonton that contains the juicy pork within. It's then normally grilled, served with sweet chilly sauce for you to dip into. Although, not on the menu, you can request to have the steamed version, and you can dunk it into soy sauce, which is the traditional way of having this Chinese dish.
This really depends on your taste. You get 6 in a portion, and it makes a great shared starter!
Our Grilled Peking Pork Dumplings is #J16, found under Appetizers on our menu for £4.80.

Pork Dumplings (Siu Mai)
Despite the name on the menu, this is actually a lot more exotic, as it is not that common to find at  your average Chinese takeaway, the Siu Mai is filled with pork and shrimp, along with other ingredients such as mushroom, ginger, and green onions.
After being stuffed, it is slowly steamed so the meat inside is cooked with its juices spreading throughout the dumpling. We serve 6 in one portion. This dish is normally consumed at traditional Chinese restaurants as a Dim Sum, and the majority takeaways in Romford will not have this on their menu.
We featured this dish on our menu when we opened back in January as we wanted to introduce more authentic Chinese cuisine to everyone in Romford. So far it has been a huge hit! With at least 10 portions of Siu Mai being sold each week. You can try it out if you haven't had it before.
You can order some traditional Siu Mai under Appetizers on the menu, #J28 for £4.80.
There you have it, all the selection of dumplings being served at the Romford Dragon, when you next place an order, why not give each one a try!
Before I let you go, I have an important question…
Do you know why the Romford Dragon's soup is so heavy?
…Because it's ONE TON soup!
Please note, our dumplings may include allergens such as gluten from dough and crustaceans from shrimp and prawns, as always, please get in touch before ordering.