Due to the ongoing uncertainty with Covid-19, and the government's constant changes; we felt that it will be better to have a central blog post to update everyone in Romford. This will ensure the safety of both our staff, and you the customers. So please keep up to date with our  #DoingMyBit  to limit the spread of Covid-19 updates.
This recent news and new guidelines will applies to both us here at the Romford Dragon, but also, to other Takeaways in Romford. Other establishments might be different, and it will be best to check with them.
Latest Corona Virus Updates for Romford Takeaways as of 05/01/2021
Third National Lockdown in Romford
Well happy new-year to you all, kinda…
I am actually running out of things to say now, it's like the post before, but it means schools not opening, very similar to the March lockdown in 2020, only difference is we are not closed!
Please keep working with us, as it will be crazy busy during these times.
Thank you!
Starting on the 5th of January 2021 England will be going into another national lockdown.
Romford to enter Tier 3 and 4 restrictions
We get it, we only just got out of a national lockdown, and now we have to go back up to a Tier 3, very high alert system; it is like an enthusiastic yoyo.
This will not change anything however, as we operate purely as a Chinese Delivery and Takeout service.
It might mean, like witnessed in the month-long lockdown, people are ordering from us a lot more because of not being able to go out to eat. Please understand how busy it will be and order/wait accordingly.
Here is some non-Romford Dragon related rules you will need to know, that I took from the council's social media, starting on Wednesday the 16th of December: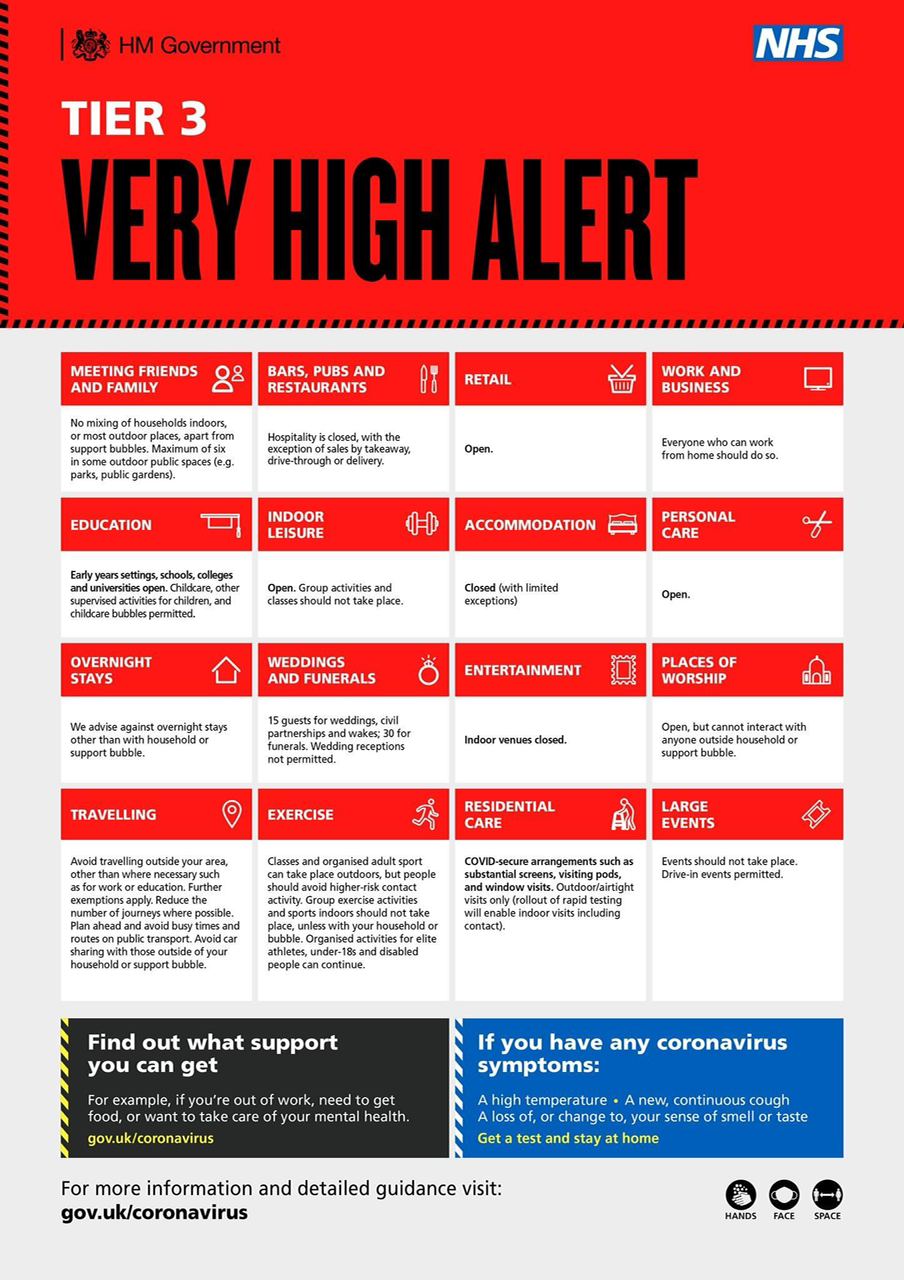 New Four-week England Lockdown
Today, the 31st of October, the prime minister announced a national lockdown, starting on Thursday the 5th of November; like what we experienced back in March. This is schedule for only for a month, and hopefully it will not last as long as our first one. If the lockdown is affective in stopping us overwhelming hospitals, we will be out of it on the 2nd of December, going back to our Tier 2 level system. Boris Johnson said that Non-essential shops such as pubs and restaurants must close, unless they offer takeaway or delivery services.
What does this mean for us at the Romford Dragon?
Well, good news! Unlike our closure back in March, we are not planning to close during this lockdown!
We believe that throughout the last few months, we have learned a lot when it comes to keeping everyone safe; and with the help with the locals of Romford, yes that is you wonderful customers being super cooperative; we are sure we can offer a safe yet relatively normal service.
Remaining open, we ask that everyone continue to follow our guidelines, even more so now that the rate is a lot higher.
As always, please continue to work with us as we deliver your Chinese food in Romford right through lockdown!
NHS Test and Trace App with QR Code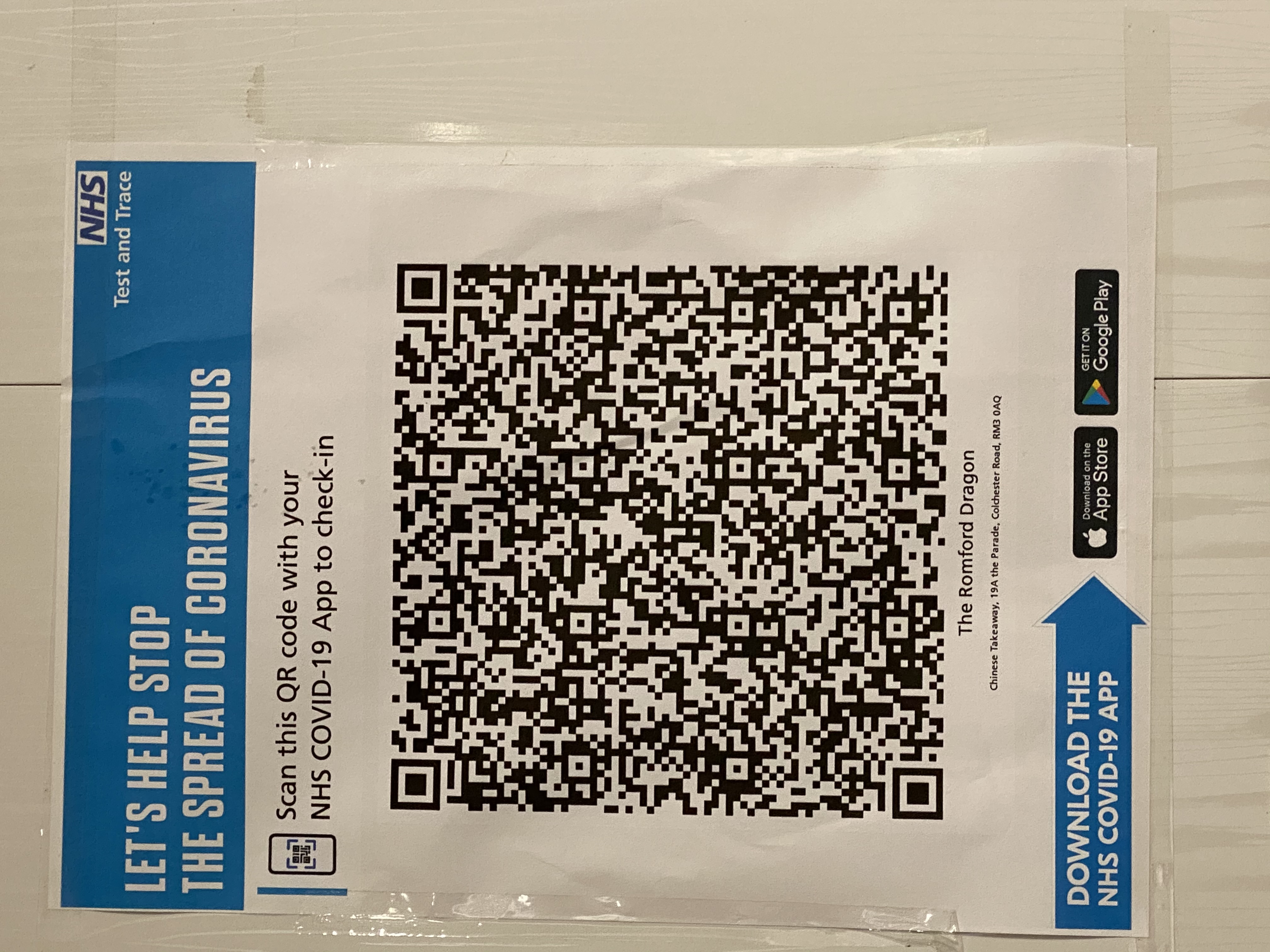 We have displayed a QR code on the left -hand wall as soon as you walk into the shop. this is to notify NHS the places you visited and to see if you came in contact with infected people; it doesn't have any personal information of you, so please leave your tinfoil hat outside!
All you have to do is to download the NHS Test and Trace App for Apple or for Android; and point your phone at the sign.
10pm Curfew 🕙
On Monday 21st of September, the Prime Minister announced that pubs and restaurants would have to close by 10pm due to a surge in Covid-19 cases. This rule will start on Thursday 24th of September.
Are Takeaways affected?
Yes and no, deliveries are allowed after 10pm, but not in person.
Here at the Romford Dragon, we will be locking our doors at 10pm, so you will not be able to order or pickup in person, but you can still make an order over the phone or online, and we will deliver until 11pm like normal.
This includes delivery to the great distance to your car, or outside the shop… Don't worry, because we are such nice people, there won't be a minimum order, nor would we charge you for the delivery fee. 😉
The Three-tier Lockdown in Romford
On Monday the 12th of October, the government has placed different restrictions in areas, depending on the severity of infection rates; fortunately, Havering is under the 'Medium' rate, which means we only have to comply with the base rules , this includes the rule of 6 gathering one and the 10pm curfew.
Another Local Lockdown in Havering?
It is possible according to Havering's Council chief executive; if the spread is not controlled, we could face a lockdown as soon as October. Welp, October is here, and we don't see any lockdown, so well done all! But this doesn't mean we are out of the red yet, please continue doing what you are doing to keep everyone safe!
If this happens, many stores including restaurants and even takeaways might be forced to close.
At this moment in time, we have no plans of closing again if a second lockdown happens. Extra measures will be implemented if we do decide to remain open during a lockdown. We will keep you updated.
Mandatory Face Coverings
As a customer, face masks are compulsory when you are visiting us in person to make an order or to pick up your food. More than ever, due to the increasing cases of Covid, you must wear a face covering; so please make sure you have a mask on when you visit us; unless you are exempt. You can learn more here.
Contactless Payments
We offer a contactless payment via a card machine, online on our website, and on our mobile app. If you are visiting us in person just tap your card or use Apple/Google Pay on your phones. If you are getting your food delivered, you can call us and pay over the phone using your card. Card is also accepted through our online platforms. We appreciate not everyone will use a card, so we are still accepting cash.
Contactless Delivery
Once our driver is outside, they will knock on your door, place the food down, step back and wait for you to collect your food before leaving. If you haven't paid yet, please leave the money outside, we will not be giving change, however,  our drivers will greatly appreciate a tip during these difficult times.
Social Distancing
We are only letting in 2 customers in the shop at any one time, this will unlikely affect you, due to our limited footfall; but if you do see more than 2 people inside, please wait until someone leaves. If you are inside, please keep your distance from other customers.
Thank you so much for taking the time to read this and #DoingMyBit to keep everyone in Romford safe. We will do our bit by keeping up with new government guidelines, and keeping all our customers informed. Follow us on Facebook, Twitter or Instagram so you are notified if this page gets updated.
Let us tackle Corona together!